Skip to Main Content
It looks like you're using Internet Explorer 11 or older. This website works best with modern browsers such as the latest versions of Chrome, Firefox, Safari, and Edge. If you continue with this browser, you may see unexpected results.
On Demand Training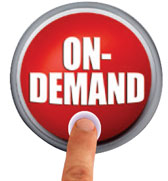 On Demand Training is a way of offering professional development that provides anywhere, anytime access to valuable content from any web-enabled device. On-demand Training offers you:
Convenience: We have created videos that makes training available any time, from any location, on any web-enabled device.
Quality: On Demand Training offers a rich, interactive, and complete online learning environment that includes expert instructors and video demonstrations.
Content: We will be providing a diverse and ever-growing library covering topics that are relevant to you and your success in the classroom.
Summer Institute 2016



Managing Quizzes in eLearn
Dr. Terry Rawlinson



Installing Respondus eLearn Training 
Dr. Terry Rawlinson



Importing and Exporting Test Items Using Respondus
Dr. Terry Rawlinson



Adding YouTube Links to Test Items in Respondus
Dr. Terry Rawlinson
New Features of Turnitin: January 2017
eLearn Updates



New Look for Ungraded Assignments in eLearn



Copy and Paste Formatting in eLearn, January 2017
How to View Grademark Video